Annual Hispanic Achievement Awards
The 12th Annual Hispanic Achievement Awards ceremony and reception was held on May 14, 2013 at Long Reach High School in Columbia. We invite you to see a complete list of all of the 2013 Awardees, including individual photos of each awardee. Also below is a slide show from the festivities.
Mission
The mission of CONEXIONES is:
To ensure that every Hispanic student in Howard County will complete high school and will continue in productive and satisfying directions.
To develop partnerships with schools, community organizations, businesses, community leaders and parents to provide comprehensive programs to advance the leadership capabilities and educational achievement of Howard County Hispanic youth.
If you believe in our mission, we encourage you to donate to Conexiones. We are a registered 501(c)(3) organization.

Advocacy for Hispanic Students in Howard County
CONEXIONES has been an advocate for changes in policies, practices and personnel of the Howard County Public School System, that improve the performance and educational outcomes for Hispanic students. These efforts directly resulted in the establishment of the Hispanic Achievement Specialist position within the HCPSS and the addition of Hispanic Achievement Liaisons in all schools with a substantial Hispanic population. This approach promises to serve as a national model.
Conexiones Presents to the Board of Education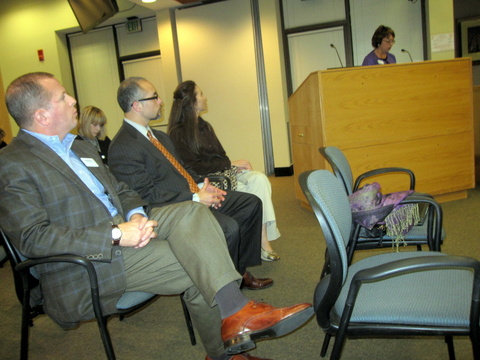 On December 3, 2012, Feli Solá-Carter, President of Conexiones, presented the goals of Conexiones for School Year 2012-2013. Also present were Conexiones Board Members, Ted Martinez, Mike Muñoz and Maryann Maher. See text of her remarks...
Activities
We support our mission by providing assistance and support to encourage students to complete high school, consider higher education opportunities and to be successful in their career choices.
On October 13, 2012, friends of Conexiones gathered for "A Celebration of Hispanic Youth in Howard County."
On May 16, 2012, nine schools (Middle and High) participated with a total of 200 students for a fun filled day of soccer, football, frisbees, table games, face painting, and tug-of-war! I am proud to report that Wilde Lake High School won the tug-of-war game 4 times in a row! The weather was picture perfect!
Student Clubs
In order to nurture a positive ethnic identity and strengthen a sense of belonging, we support Hispanic youth clubs organized within the Howard County Public School System (HCPSS). These clubs build community, celebrate Hispanic heritage, foster academic achievement, and provide leadership experiences.